PYRATECH SECURITY OFFICERS
INDUSTRIAL SECURITY OFFICERS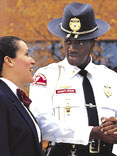 We propose to upgrade or maintain existing guard service by providing a comprehensive interior and exterior advisory-oriented security approach. A security program that covers the facets of a progressive training program that covers, pre-assignment training, site-specific training, sustainment training, supervisor training and managerial training. In addition to conducting security surveys and audits, developing the necessary security manuals, policies & procedures to accompany access/fleet control and cover mitigation & emergencies.

LOSS PREVENTION
We specialize in loss prevention investigations, retail, commercial and industrial. We conduct covert and overt investigation into allegations of organizational fraud and larceny by obtaining evidence and taking statements, writing reports, testifying to findings, thus assisting in the detection and prevention of fraud and larceny.
Our officers having working knowledge of all applicable laws and prior experience of critical situations (armed robbery, employee violence) can handle all customer service and security needs.
ESTATE SECURITY OFFICERS
The basic prerequisites of any security program is to impede, detect, assess, and neutralize all unauthorized external and internal activity and we are prepared to do that. Every facility has items that need protecting and the most important items are the residents, staff, property and reputation.
The facility security officer, who is appointed at each facility, has the ability to assess the risks and vulnerabilities, and prescribe reasonable remedies that will meet the threat. All our guards adhere to a strict code of ethics in carrying out their personal and professional duties.
SPECIAL EVENTS
Pyratech Security Systems, Inc. specializes in uniformed guard service, security consulting, security systems designs and private investigations. We have expanded our service to include special event security and executive protection.
---
Contact Us At: 313-345-2000